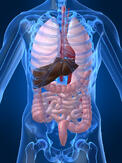 In a retrospective study from Japan, the chronic use of proton pump inhibitors (PPIs), often used in the treatment of GERD, was found to be associated with a greater than 3-fold increased risk of developing Clostridium difficile–associated diarrhea (CDAD), Takatoshi Kitazawa, MD, assistant professor at Teikyo University in Tokyo, Japan, reported during a poster session at the 51st Interscience Conference on Antimicrobial Agents and Chemotherapy.
These findings add to the growing body of information about the potential long-term concerns of chronic proton pump inhibitor use. More structured, prospective, randomized studies are needed to accurately examine the relationship between PPI use and disturbances in mineral metabolism, risk of bone fracture, drug interactions as well as the aforementioned increased risk of this dreaded infectious diarrhea.
These realizations about the adverse effects of PPI warrant more consideration to antireflux procedures in appropriately selected patients who suffer from chronic GERD.