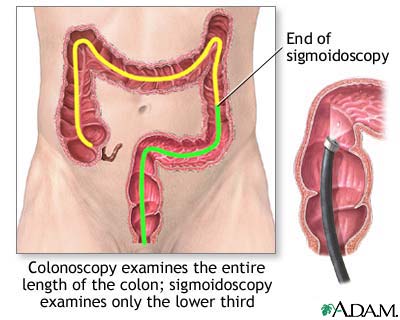 As reported from

Medscape (11/4, Canavan) reported, "Two new tests that examine the gene signatures of peripheral blood mononuclear cells have demonstrated high sensitivity in the identification of colorectal cancer (CRC) and adenomas larger than 1 cm." Researchers in Switzerland first zeroed in on "60 markers," and the "resulting panel highlighted the gene signatures of proteins involved in several different biologic functions, including those of cellular movement, cell signaling and interaction, tissue and cellular development, cancer, and cell growth and proliferation." Then, after using that "suite of biomarker candidates" to assess other patients with IBD or "non-CRC cancers," investigators decided on "a final selection of 24 genes [that] was used to create two separate assays. They were designated COLOX CRC for cancer detection, and COLOX POL (polyp) for adenomas."

Current methods for colon cancer screening include stool studies for blood, flexible sigmoidoscopy, barium enema, and colonoscopy. Virtual colonoscopy uses CAT scan technology with specialized software to reconstruct images of the colon. This "virtual colonoscopy" is a fascinating technology, but can not properly image very small polyps and when there is a questionable finding, colonoscopy must be performed. Therefore, colonoscopy remains the gold-standard for the prevention and diagnosis of colon cancer. Colonoscopy, unlike sigmoidoscopy, allows for examination of the entire colon and not just the left side. We hope in the future that there will be an easy blood test or stool test that will be definitive in the diagnosis of colorectal cancer, or the finding of early polyp formation. The biggest issues to get people accustomed to the idea of having an exam to manage such a preventable cancer.

The new gene testing for colon cancer and polyps will allow for earlier detection and, perhaps, allow clinicians to risk stratify "at risk" for colon cancer persons well before any manifestations of the disease occur. Cologuard is a commerical available stool DNA test that can detect colon cancer.