Have you ever wondered why some providers offices call so many times to remind you to schedule an appointment? Our office does this monthly, in order to ensure that our patients obtain the needed testing to diagnose and treat certain dangerous conditions, such as colon cancer. A recent article published in HealthDay bore out that this is an effective and essential way to encourage patients to keep on their treatment.
Automated messages increased test rates by 30 percent, study found
THURSDAY, June 24 (HealthDay News) -- Automated telephone reminders can increase colon cancer screening rates by 30 percent, research shows.
The new study included nearly 6,000 people in Oregon and Washington who were overdue for colon cancer screening. Half of the participants received up to three automated telephone reminder calls emphasizing the importance of getting screened and offering them an in-home kit to test for blood in the stool.
Within six months, 22.5 percent of those who received the reminder calls had ordered and completed a stool card test, compared to 16 percent of people who didn't receive reminder calls, the authors reported in the study published in the July print issue of the journal Medical Care.
"Most Americans who should be screened for colon cancer are not being screened. If everyone who is eligible for screening received reminder calls through a program like this one, we could screen millions of additional people. And because the calls are automated, they can be delivered to large numbers of people in a short period of time," lead author David Mosen, an investigator at the Kaiser Permanente Center for Health Research, said in a Kaiser news release.
Each year in the United States, more than 52,000 people die of colon cancer, making it the second leading cause of cancer death in the country. Most Americans should begin colon cancer screening at age 50, but those at high risk should begin at a younger age, says the U.S. Preventive Services Task Force.
Screening methods include colonoscopy, sigmoidoscopy and the stool test.
"The stool test is easy to take, but many people see it as unpleasant. This study shows that simple, automated calls motivate more people to take the test, and that means we will detect more cancers at an early stage when we can still save lives," principal author Dr. Adrianne Feldstein, a researcher at the Kaiser Permanente Center for Health Research, said in the news release.
SOURCE: Kaiser Permanente, news release, June 24, 2010
Copyright © 2010 HealthDay. All rights reserved.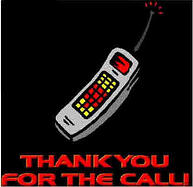 So the next time your provider's office calls you to remind you that it is time to schedule your next check-up, stop for a moment to remember that these reminders serve a useful purpose!